Mind-Modelling in Characterization of Hanif Kureishi's Novels: A Corpus-Based Analysis
Keywords:
Novel, Corpus Analysis, Mind-modelling, Characterization, Hanif Qureshi
Abstract
Cognitive stylistics is the most recent discipline on the interface of linguistics, cognitive science, and literary studies, seeking the integration of language research with cognitive ideas. It helps understand mind-modeling in the characterization of a story by the writer through the use of various intentionally built textual structures. The current study has analyzed the text of Hanif Qureshi's novel Intimacy with the help of AntConc 3.5.9 to explore the technique of mind-modeling used by the writer in the novel for the development of characters and generation of themes of love and sexual desires. The keywords, collocations and cluster patterns produced by AntConc 3.5.9 have been interpreted by the model of Stockwell and Mahlberg (2015). Findings of the current study show the themes of love and sexual desires through mind-modelling with the help of collocations, clusters and concordance lines of two major keywords and characters of "Susan" and "Victor".  The linguistic choices and textual structures are highly significant for the development of characters and themes along with the progression of events of the story. The current study may assist in the field of psycholinguistics to evaluate the characters' psychology, and the author to develop the cognitive process in his piece of literature for a better understanding. It may illustrate a useful relationship between linguistics and literature.
References
Ali, S., & Ahmad, S. (2017). Discourse styles of Pakistani Fiction in English: A Multidimensional Analysis. Balochistan Journal of Linguistics ISSN-No. 2312-5454 (2017 Issue 5), 9.
Aleem, A. (2021) Mind-Modelling in Characterization of Hanif Kureishi's Novels: A Corpus-Based Analysis. M Phil Thesis submitted to the GC University, Faisalabad.
AREEF, A. L. H. M. (2016). A cognitive stylistic analysis of Simon's lyric" THE SOUND OF SILENCE. Journal of Al-qadisiya in arts and educational sciences, 16(4).
Culpeper, J. (2002). A cognitive stylistic approach to characterization. Cognitive Stylistics, 251-272.
Freeman, M. (2000). Poetry and the scope of metaphor: Toward a cognitive theory of literature. Metaphor and Metonymy at the Crossroads: A cognitive perspective, 30, 253.
Gavins, J. & Steen, G. (2003). Cognitive poetics in practice. Psychology Press.
Gibbs, R.W. (2006). Embodiment and Cognitive Science. New York: Cambridge University Press.
Glotova, E. (2014). The Suffering Minds: Cognitive Stylistic Approach to Characterization in "The Child-Who-Was-Tired" by Katherine Mansfield and "Sleepy" by Anton Chekhov. In Theory and Practice in Language Studies, 4 (12), 2445-2454.
Hussein, K., S. (2019). Cognitive Foregrounding Through Schematic Knowledge Deviation in Murakami's Kafka on the Shore. Dhi-Qar University/ College of Arts. Journal of Basra Research Human Science. No. 4B Vol: 44, Yr.2019
Hussein, S. K. (2014). A Computational Linguistics Perspective of Authorship and Plagiarism. German: Lambert Academic Publishing.
Leech, G., & Short, M. (2007). Style in fiction (2nd ed., p. 9). London: Routledge Taylor & Francis Group.
Niaz, A. (2009). Mirza Ghalib in Yale-Author Sara Suleri reads from her new book: Boys will be boys: A daughter's elegy, Jazbah Magazine, women of Pakistan. Retrieved from http://kazbar.org/jazbah/bookbwb.php
Semino, E and Culpeper, J. (eds) (2003). Cognitive Stylistics: Language and Cognitive in Text Analysis. Amsterdam: John Benjamin.
Simpson, Paul. (2004). Stylistics: A Resource Book for Students. London: Rutledge.
Stockwell, P., & Mahlberg, M. (2015). Mind-modelling with corpus stylistics in David Copperfield. Language and Literature, 24(2), 129-147.
Woldemariam, H.M.(2015). The Teaching and Learning of Poetry at Postgraduate Level: A Cognitive Stylistics Approach. PoN (NUST), Polytechnic of Namibia, Department of Communication Windhoek, Namibia.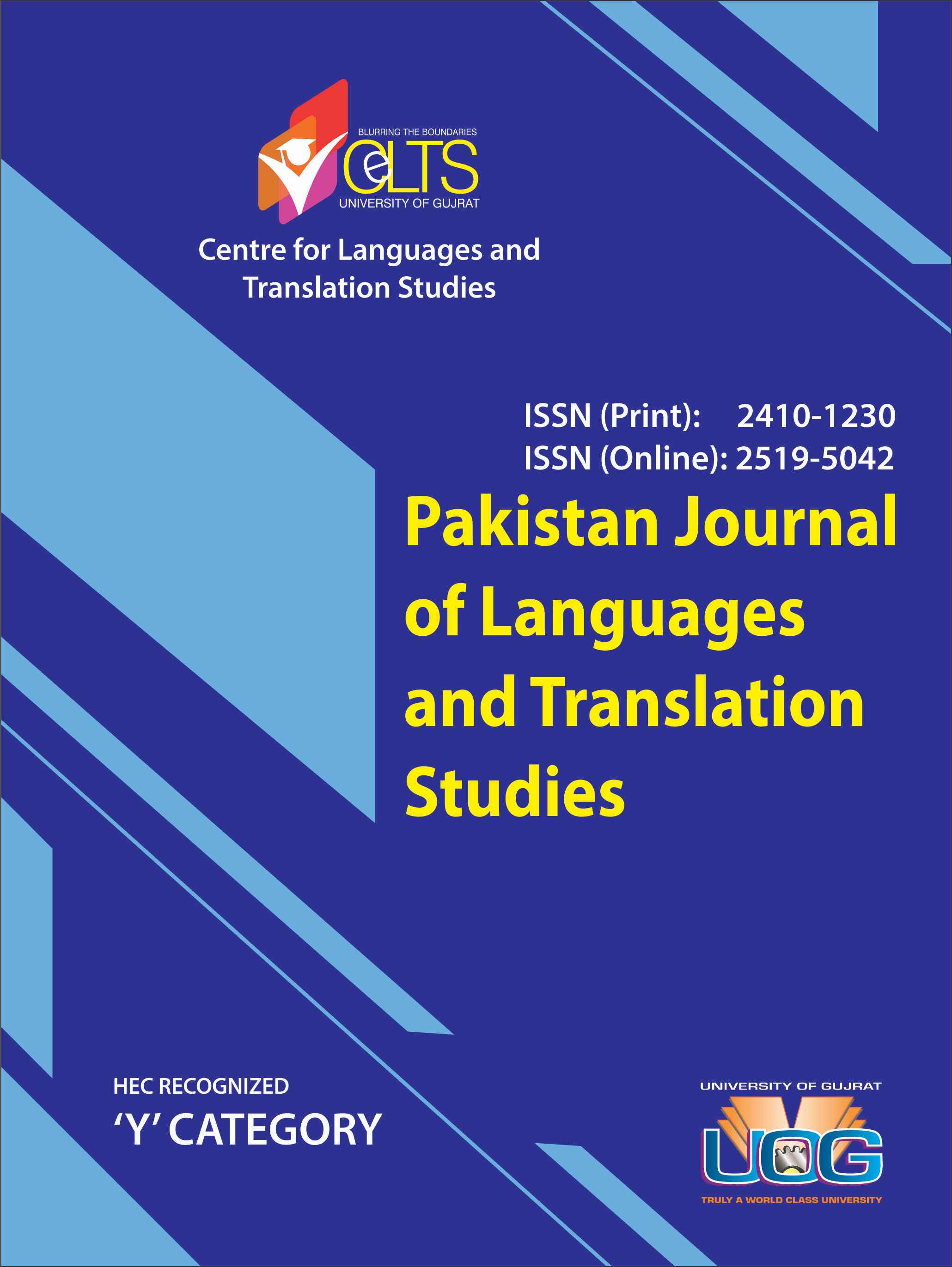 Downloads
How to Cite
Aleem, A. ., Qasim, H. M. ., & Khalil, M. . (2022). Mind-Modelling in Characterization of Hanif Kureishi's Novels: A Corpus-Based Analysis. Pakistan Journal of Languages and Translation Studies, 10(2), 61–79. Retrieved from https://pjlts.uog.edu.pk/index.php/pjlts/article/view/26
License
Copyright (c) 2022 Adil Aleem, Dr. Hafiz Muhammad Qasim, Muhammad Khalil
This work is licensed under a Creative Commons Attribution 4.0 International License.