A Corpus-driven Stylistic Analysis of Hardy's Novels
Keywords:
Collocations, Corpus Driven Stylistics Analysis, Hardy, Novel
Abstract
Stylistics is the study of impressions that a writer wants to produce. It has been critical for the interpretation and understanding of literary texts. Corpus-driven stylistics analysis employs a variety of computer-run techniques to analyze texts on a scientific basis. It studies a large number of corpora to find out the style of the writers and the way they inject themes through their styles. Thomas Hardy is well known throughout the world for his peculiar style of injecting themes in the keywords and collocations of the text. The current research study has analyzed the text of the novel The Return of the Native by Hardy to find out how he uses words and collocation patterns to support his themes using two software namely AntConc and Wmatrix. The results have been interpreted in accordance with the model presented by Mahlberg (2013) This study has found that Hardy is very much deliberate in the selection and placement of lexical items. He masterfully supports his themes with the help of the selection and placement of lexical items. The research will help teachers and students in understanding writers' styles. Future researchers are suggested to work on novels by Hardy or other writers for the production of more comprehensive results.
References
Aquilina, M. (2014). The Event of Style in Literature. London: Palgrave Macmillan.
Baker, P. (2006). Using corpora in discourse analysis. A&C Black.
Carter, R. (2012). Vocabulary: Applied linguistic perspectives. Routledge.
Chen, Y. H. & Baker, P. (2010). Lexical bundles in L1 and L2 academic writing. Language Learning & Technology, 14(2), 30-49.
Dutton, R. (1984). An introduction to literary criticism. London: Longman.
Egbert, J. (2012). Style in nineteenth-century fiction: A multi-dimensional analysis. Scientific Study of Literature, 2(2), 167-198.
Ejaz, M. A.(2019). Corpus-driven Stylistic Analysis of Hardy's Novels. An M.Phil.
Unpublished thesis,Faisalabad.Riphah International University.
Fischer-Strake, B. (2010). Corpus linguistics in literary analysis: Jane Austen and her contemporaries. London: Continuum.
Halliday, M. A. K. (1973). Explorations in the Functions of Language. London: Edward Arnold.
Hardy, E. (1954). Thomas Hardy: A Critical Biography. London: The Hogarth Press.
Hardy, T. (1878). The Return of the Native. London: Belgravia
Ihrmark, D., & Nilsson, J. (2021). A Corpus Stylistic Analysis of Development in
Hemingway's Literary Production. The Hemingway Review, 40(2), 71-93.
Kramer, D. (1979). Critical Approaches to Fiction of Thomas Hardy. London: Palgrave.
Leech, G. N. (2016). A linguistic guide to English Poetry. London: Routledge
Lindquist, H. (2009). Corpus Linguistics and the Description of English. Edinburgh: Edinburgh University Press.
Mahlberg, M. (2013). Corpus Stylistics and Dickens's fiction. Abingdon: Routledge.
Pope, R. (2012). Studying English Literature and Language: An Introduction and Companion (3rd ed.). New York, London: Routledge.
Sinclair, J. & Carter, R. (2004). Trust the Text: Language, Corpus, and Discourse. London, New York: Routledge.
Stubbs, M. (2005). Conrad in the computer: Example of quantitative stylistic methods. Language and Literature,14(1),5-24.
Wu, Z. (2021). Review of Wallis (2021) statistics in corpus linguistics research: A new
approach. Applied Corpus Linguistics, 1(3), 100013.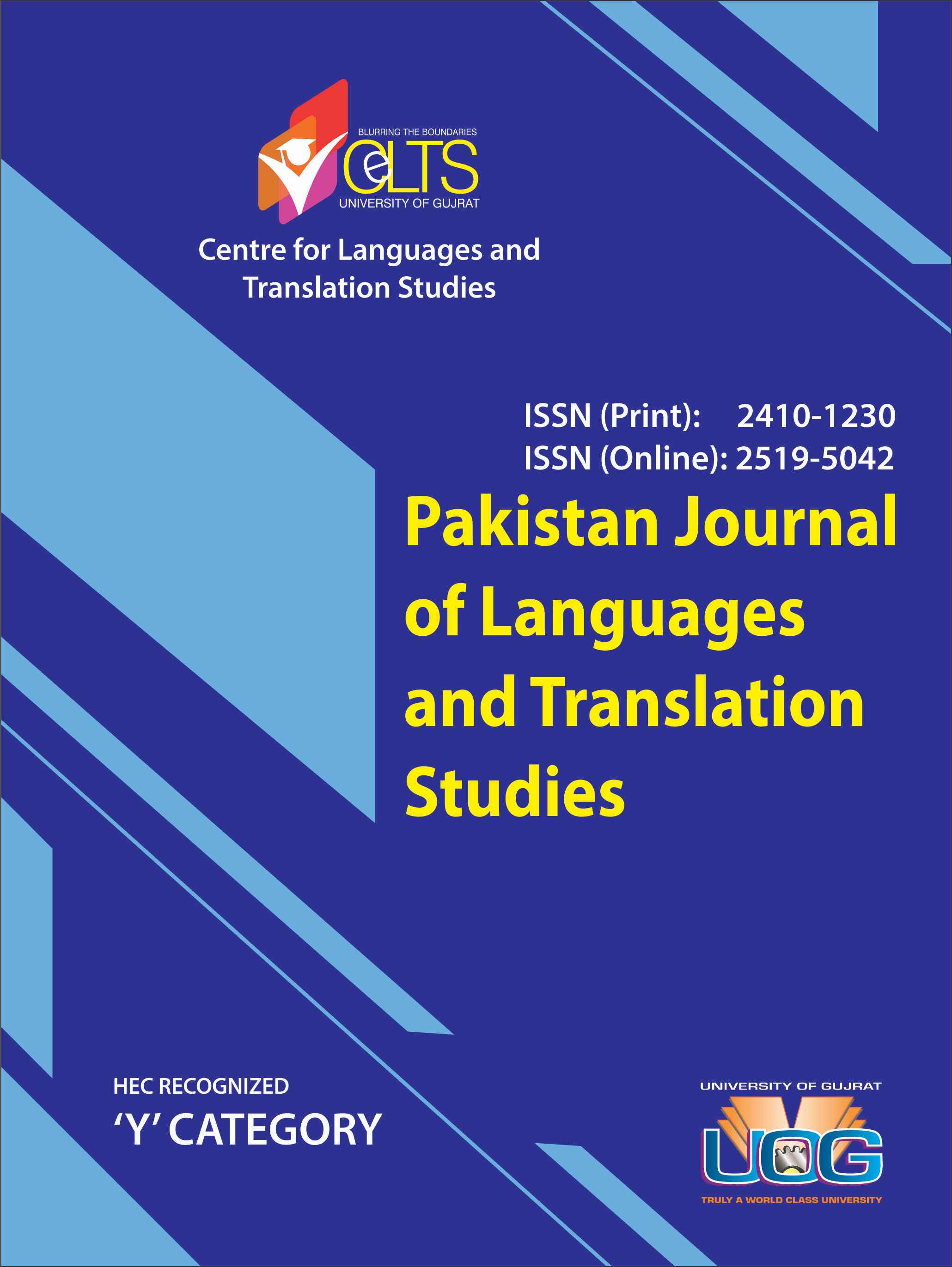 Downloads
How to Cite
Ejaz, M. A. ., Ahmad, D. S. ., Ali, D. S. ., & Nazeer, A. . (2022). A Corpus-driven Stylistic Analysis of Hardy's Novels. Pakistan Journal of Languages and Translation Studies, 10(2), 113–130. Retrieved from https://pjlts.uog.edu.pk/index.php/pjlts/article/view/30
License
Copyright (c) 2022 Muhammad Ansar Ejaz, Dr. Sajid Ahmad, Dr. Sajid Ali, Aamir Nazeer
This work is licensed under a Creative Commons Attribution 4.0 International License.